1 . At what age should my child first see a dentist?
According to the American Academy of Pediatric Dentistry (AAPD), your child should visit the dentist by his or her 1st birthday. You can make the first visit to the dentist enjoyable and positive. Your child should be informed of the visit and told that the dentist and their staff will explain all procedures and answer any questions. The less to-do concerning the visit, the better.
2 . Why are the primary teeth so important?
It is very important to maintain the health of the primary teeth. Neglected cavities can and frequently do lead to problems which affect developing permanent teeth. Primary teeth, or baby teeth, are important for (1) providing space for the permanent teeth and guiding them into the correct position, and (2) permitting normal development of the jaw bones and muscles. While the front four teeth last until 6-7 years of age, the back teeth (cuspids and molars) aren't replaced until age 10-13.
3 . When will my baby start getting teeth?
Teething, the process of primary (baby) teeth coming through the gums into the mouth, is variable among individual babies. Some babies get their teeth early and some get them late. In general the first baby teeth are usually the lower front (anterior) teeth and usually begin erupting between the age of 6-8 months.
Although all 20 primary teeth usually appear by age 3, the pace and order of their eruption varies. Permanent teeth begin appearing around age 6, starting with the first molars and lower central incisors. This process continues until approximately age 21.
4 . How do I prevent cavities?
Good oral hygiene removes bacteria and the left over food particles that combine to create cavities. For infants, use a wet gauze or clean washcloth to wipe the plaque from teeth and gums. Avoid putting your child to bed with a bottle filled with anything other than water.
For older children, brush their teeth at least twice a day. Also, watch the number of snacks containing sugar that you give your children.
The American Academy of Pediatric Dentistry recommends six month visits to the dentist beginning at your child's first birthday. Routine visits will start your child on a lifetime of good dental health.
Your dentist may also recommend protective sealants or home fluoride treatments for your child. Sealants can be applied to your child's molars to prevent decay on hard to clean surfaces.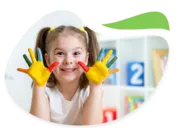 5 . What are sealants?
A sealant is a clear or white material that is applied to the chewing surfaces (grooves) of the back teeth (premolars and molars), where four out of five cavities in children are found. This sealant acts as a barrier to food, plaque and acid, thus protecting the decay-prone areas of the teeth.
6 . Should Kids be given Fluoride?
Fluoride is an element, which has been shown to be beneficial to teeth. However, too little or too much fluoride can be detrimental to the teeth. Little or no fluoride will not strengthen the teeth to help them resist cavities. Excessive fluoride ingestion by preschool-aged children can lead to dental fluorosis, which is a chalky white to even brown discoloration of the permanent teeth.
Parents can take the following steps to decrease the risk of fluorosis in their children's teeth:
Use baby tooth cleanser on the toothbrush of the very young child.
Place only a pea sized drop of children's toothpaste on the brush when brushing.
Account for all of the sources of ingested fluoride before requesting fluoride supplements from your child's physician or pediatric dentist.
Avoid giving any fluoride-containing supplements to infants until they are at least 6 months old.
Obtain fluoride level test results for your drinking water before giving fluoride supplements to your child (check with local water utilities).
7 . What's The Best Toothpaste For My Child?
Tooth brushing is one of the most important tasks for good oral health. When looking for a toothpaste for your child make sure to pick one that is recommended by the American Dental Association. These toothpastes have undergone testing to insure they are safe to use.
Remember, children should spit out toothpaste after brushing to avoid getting too much fluoride. If too much fluoride is ingested, a condition known as fluorosis can occur.
8 . Does thumb sucking damage the teeth?
Sucking is a natural reflex and infants and young children may use thumbs, fingers, pacifiers and other objects on which to suck. Thumb sucking that persists beyond the eruption of the permanent teeth can cause problems with the proper growth of the mouth and tooth alignment. Children should cease thumb sucking by the time their permanent front teeth are ready to erupt. Usually, children stop between the ages of two and four.
9 . Does Your Child Grind His or Her Teeth At Night?
Parents are often concerned about the nocturnal grinding of teeth (bruxism). Often, the first indication is the noise created by the child grinding on their teeth during sleep. Or, the parent may notice wear (teeth getting shorter) to the dentition.
The majority of cases of pediatric bruxism do not require any treatment. If excessive wear of the teeth (attrition) is present, then a mouth guard (night guard) may be indicated.
The good news is most children outgrow bruxism. The grinding gets less between the ages 6-9 and children tend to stop grinding between ages 9-12. If you suspect bruxism, discuss this with your pediatrician or pediatric dentist.
10 . Should my child wear a mouthguard while playing sports?
It is strongly recommended that children wear a mouthguard while playing any contact sport. It is always better to prevent an injury than to repair one. The earlier a child begins to wear the mouthguard, the easier it is to become comfortable and continue to wear it as they get older.
11 . What should I do if my child gets a tooth knocked out?
If the tooth is a permanent tooth, time is extremely crucial. Immediately stick the tooth back in the socket. Don't worry about getting it in straight or having it turned backwards, just get it in the socket and immediately call your dentist. If you are uncomfortable placing the tooth in the socket, put it in a glass of milk and get your child to the dentist as quickly as possible. If the tooth is a baby tooth, do not put it in the socket because damage to the permanent tooth can occur. When in doubt, put the tooth in milk and see your dentist immediately.
12 . Are silver fillings, fluoride or x-rays, a danger to my health? What are the alternatives?
Dental amalgam, or silver filling material, is a mixture of mercury, and an alloy of silver, tin and copper. The release of mercury in silver fillings is so small that it is much less than what patients are exposed to in food, air and water. There are, however, other materials that can be used for restorations. These include gold, porcelain, and composite resins.
Fluoride is a compound of the element fluorine, which is found universally throughout nature in water, soil, air and in most foods. Fluoride is absorbed easily into the tooth enamel, especially in children's growing teeth. Once teeth are developed, fluoride makes the entire tooth structure more resistant to decay and promotes remineralization, which aids in repairing early decay before the damage is visible.
Radiographs, or x-rays, help your dentist determine the presence or degree of periodontal disease, abscesses, and many abnormal growths such as cysts and tumors. They can help pinpoint the location of cavities and other signs of disease that may not be possible to detect through a visual examination. All health care providers are sensitive to patients' concerns about exposure to radiation. Your dentist has been trained to prescribe radiographs when they are appropriate and to tailor the radiograph schedule to your individual needs. By using state-of-the-art technology, such as digital radiography, and by staying knowledgeable about recent advances, your dentist knows which techniques, procedures and X-ray films can minimize your exposure to radiation.